Plans for the future
Ivar Segelberg (1914–1987) was an influential professor in theoretical philosophy in Gothenburg, but also a very advanced amateur botanist, respected in wide circles for his taxonomic competence. During the last 20 years of his active life as a botanist, he specialized on the Italian flora with a main focus on that of the big islands, Sardinia and Sicily. With great success: he was appointed a member of the Editorial Board of the Italian national flora,
Flora d'Italia
(1st ed. 1982, by Sandro Pignatti).
Here is a photo of Ivar Segelberg collecting plants in Sardinia in 1964: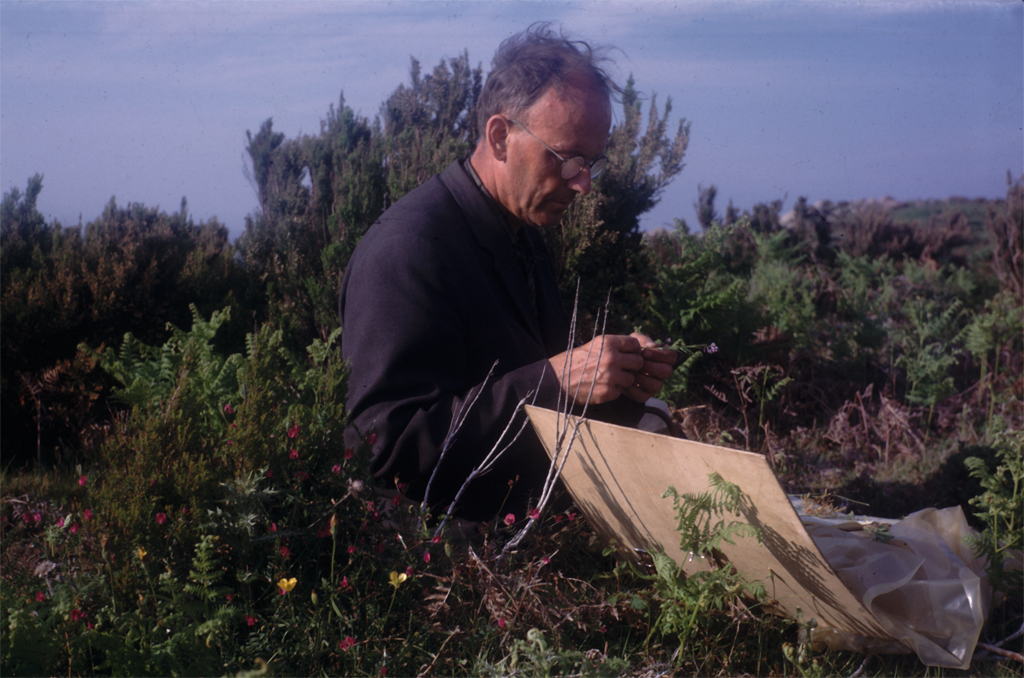 In 2008 a memorial symposium for Ivar Segelberg, entitled
Philosophy and Botany
and supported by the
Swedish Research Council
,
was held at the University of Gothenburg. Among the speakers were Sandro Pignatti, professor emeritus of ecology, Università di Roma "La Sapienza" and his wife Erika Pignatti Wikus, professor emerita in phytogeography at the University of Trieste. Herbert Hochberg, in the 1960's a postdoc for Segelberg in Gothenburg, now professor emeritus in philosophy at the University of Austin, Texas, also gave a lecture. So did a number of Swedish pupils and students of Segelberg. For more details around the symposium see
http://phil.gu.se/segelberg
, and for more on Hochberg see
below
.
Beginning in 2009, science journalist Torgny Nordin, my wife Lena and I have documented the activities of Ivar Segelberg in Sardinia and Sicily during the 1950's, 60's and 70's, using still photography, video film and digital-tape interviews. Our aim has been to publish two books, several scientific and popular papers, and at least one documentary movie. The first book, also named
Philosophy and Botany
,
was published in 2014. It focuses on Segelberg's life and work.
From 2013 and on, our work has gradually shifted its focus towards environmental problems in Sardinia and Sicily, what is being done to solve them, and the ethical problems connected with this process. Hence the main documentary and the forthcoming texts (including a planned second book) will be about Sicily, its flora and fauna, and different aspects of the work with environmental and conservation issues on this island. A lot of material has already been collected in this second phase of the project, including several interviews with key persons.
Sicily and Sardinia host a enormous biodiversity. So does the Mediterranian area as a whole. In a future, third phase of the project we want to extend our work to other parts of this
"Mediterranian Basin Biodiversity Hotspot"
.
Financial support for our project, including the trips to Italy and Switzerland and the printing of the book, has come from
Stiftelsen Torsten Petterssons Fond för Humanisk Vetenskap, Kungliga Vetenskaps- och Vitterhetssamhället
i Göteborg
,
Stiftelsen Lars Hiertas Minne,
Kungliga Vitterhetsakademien, Stiftelsen Erik och Gurli Hultengrens Fond för Filosofi
and
Anders Karitz' Stiftelse
.
---
The first documentary trip went to Sardinia in
May 2009
. It was the result of an initiative from professors Erika and Sandro Pignatti, who had just lectured at the Segelberg symposium in Gothenburg. We made a one-week roundtour "in the footsteps of Ivar Segelberg", which meant visiting a number of important botanical locations where Segelberg once collected plants. Our local guide was Armando "Dino" Orrú, who also accompanied Segelberg on his travels in the 1970's.
Here is a short glimpse from the mouth of the River Le Cossi on the north coast, with Erika Pignatti and Dino Orrú. This small area hosts several plants that are endemic to Sardinia. Regrettably – from an ecological point of view – the surrounding parts of the north coast have since Segelberg's time been heavily exploited for leisure purposes.
---
In
April-May 2010
, Nordin and I made a shorter trip to Sardinia to get photo, video and audio material from certain places that we did not visit in 2009, including the central highlands and the landscape around the town of Oliena.
The Sardinian soundscape is as fascinating as the landscape. Here an early morning near Oliena, Sardinia, May 2, 2010. European bee-eaters, European turtle doves and a lot of other voices are heard. HV-20, handheld, with Canon DM-50 mic, just to give you the feeling:
During this trip we could interview Dino Orrú at length about his journeys with Segelberg. The interview was done at a most beautiful place, Capo Mannu, with a handheld camera. Here is a very short excerpt about languages. The bird that interrupts our talk is a worried peregrine falcon.
On the way home I visited Erika and Sandro Pignatti in Rome, where I did a couple of interviews with them about Segelberg and the relevance of his work today.
---
Later in
2010
, we also made a tour to Stockholm and Uppsala for interviews with two emeritus professors in botany, who both knew Segelberg well when they were young: Bertil Nordenstam and Bengt Jonsell.
In 2010, Herbert Hochberg was awarded a
honorary doctorate
at the Faculty of Arts, University of Gothenburg.
---
Early in
2011
, Nordin and I went to Geneva to see Adelaide Stork, botany professor there but born and educated in Sweden. She was a close friend of Ivar Segelberg from her youth and until his death, and she contributed much to the biography in our 2014 book.
---
The next trip to Italy in the series was made by me and my wife Lena in
April-May 2012
. We visited Erika and Sandro Pignatti in Rome and did several interviews with them. Here is the Pignatti couple in the Orto Botanico (Botanical Garden) of Rome.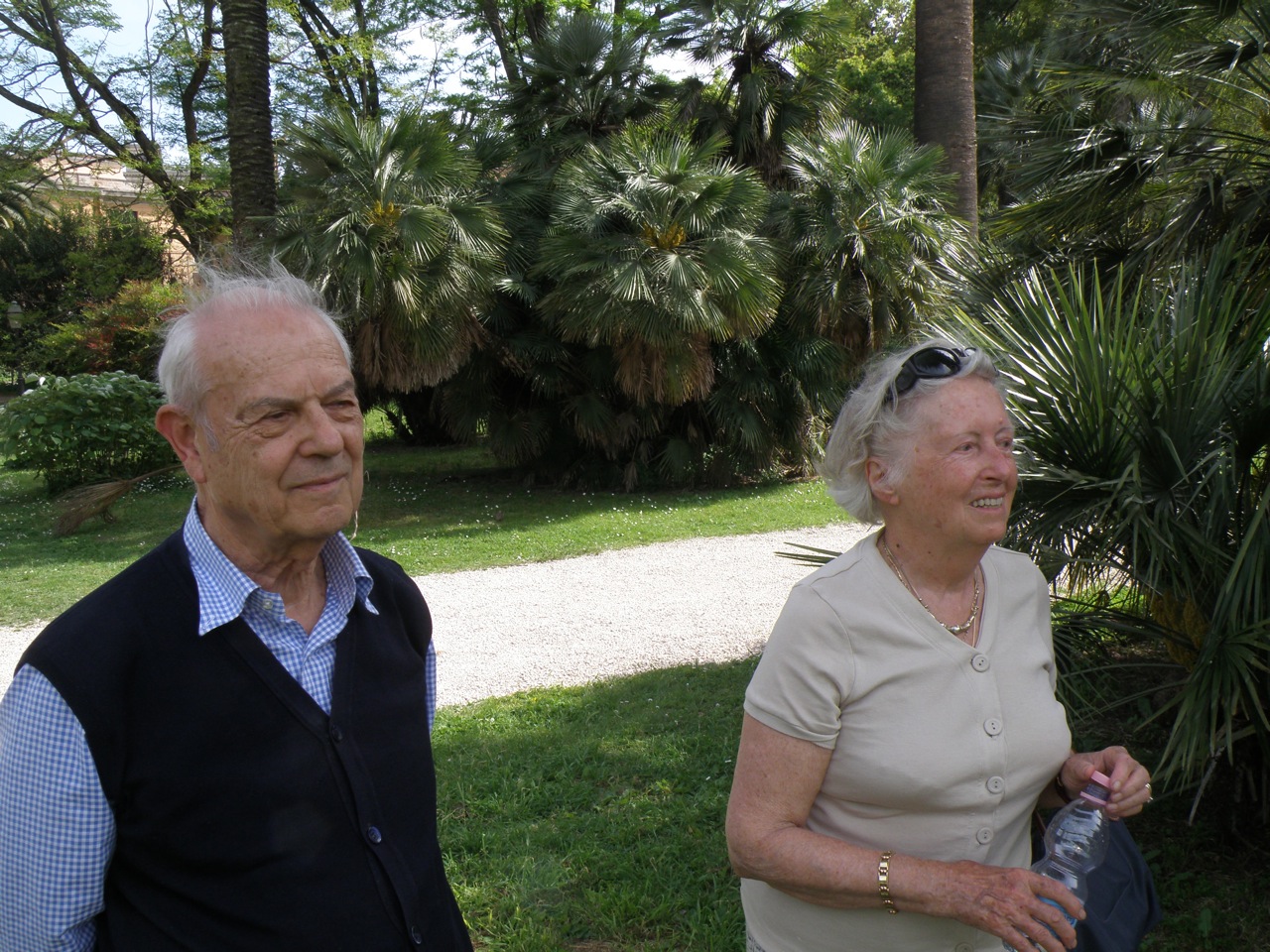 After these interviews we had all the necessary material for the first book, which was published in 2014.
---
In
May 2013
I made another short trip for the project. The goal this time was Palermo, which has one of the oldest botanical gardens in the world. There I first had a long interview with Sandro Pignatti about the very rich and diverse flora of Sicily and the conditions that has shaped it. Then I was taken on a rather breathtaking tour to Rocca Busambra, which is a botanically rich mountain in northwestern Sicily that Segelberg visited repeatedly. The tour was lead by professor Francesco Raimondo. Raimondo is a prominent specialist on the flora of Sicily, until his retirement the head of the Botanical Garden in Palermo, and is still much engaged in conservation issues (see
below
).
Here is the full interview with Sandro Pignatti (camera for this and all the following clips up til November 2015: Canon XL-H1A):
In the below video from the excursion to Rocca Busambra, Sandro Pignatti first describes the place and its importance for Ivar Segelberg. Then, Francesco Raimondo speaks about the endemic plants of the area.
At the end of the same tour, Francesco Raimondo describes the rural area south of Rocca Busambra and its historical importance. Thanks to Massimo Chindamo for help with the translation.
---
Another extremely important area from an ecological and botanical point of view is the
Madonie National Park
in northern Sicily, which Lena and I visited briefly in
May 2014
as a reconnaissance tour for the May 2015 excursion (see below). The Madonie mountains reach heights of almost 2000 meters and have a very varying geology, which makes for great biodiversity. The below picture is from Piano Zucchi, near the central massive with its highest peak Pizzo Carbonara.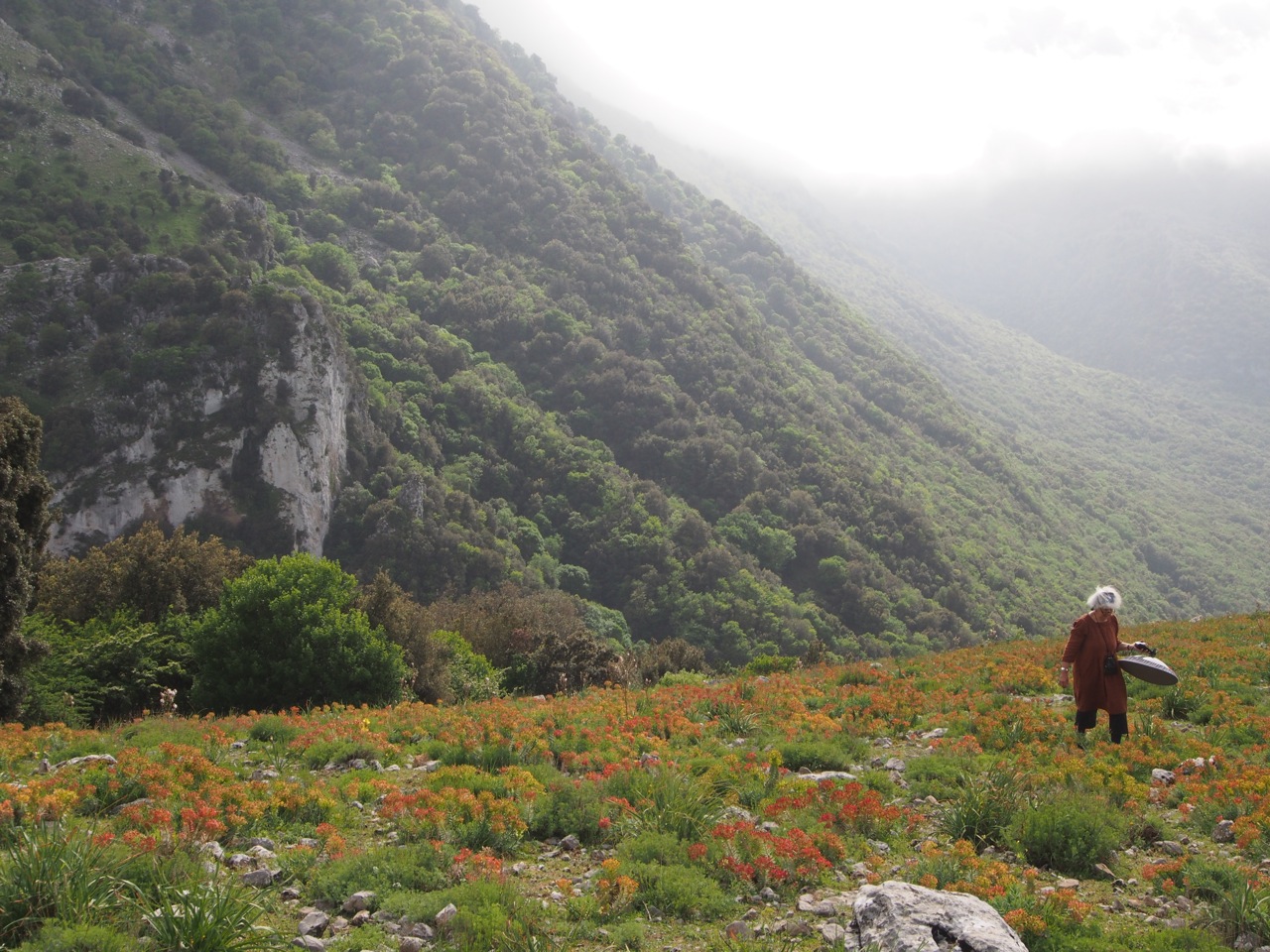 ---
The most extensive excursion that Torgny Nordin and I have made so far took place in
May 2015
. We visited a number of national parks and other important areas in the eastern half of Siciliy, starting with one and a half day in the Etna park with its exotic biotopes (picture © 2015 Torgny Nordin). Note the birches (
Betula alba
) that grow in the volcanic ash – Etna is the southernmost locality for birch in Europe.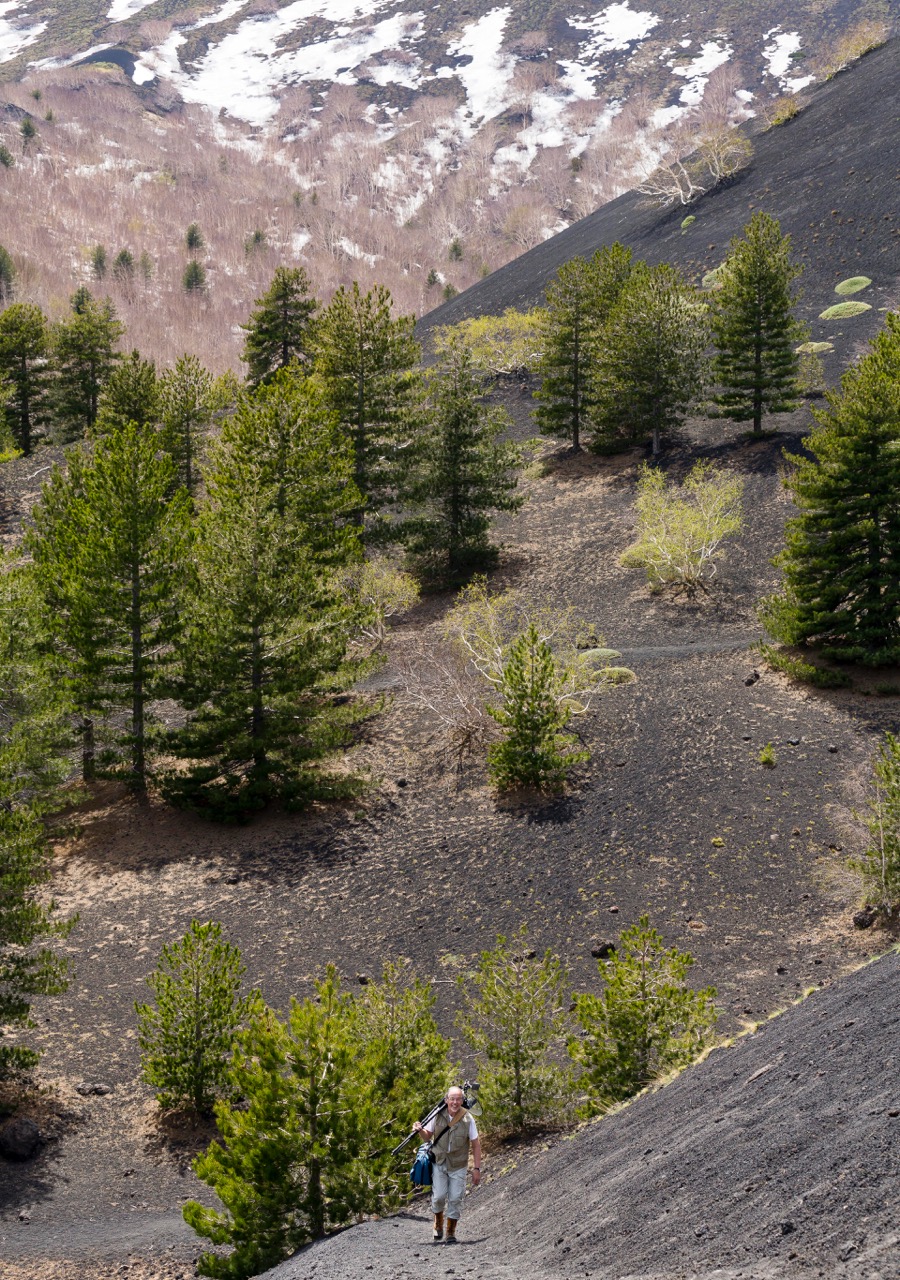 Then, a short visit to the Nebrodie park, where we among other things searched for an endemic plant that Segelberg collected there in 1964, regrettably without finding it (although we found the place).
After that we had a great day watching migrant birds of prey at the Messina Strait. On the top of Monte Dinamaro we had an interview with Sicilian ornithologist and raptor specialist Andrea Corso, who among other things told us about the illegal hunting of birds that still is going on in Sicily. The video has been edited using clips from other parts of our excursion, so you also get a glimpse of bird hunting according to the 4th century mosaics at the
Villa Romana del Casale
in southern Sicily.
The marvellous Madonie park was our next goal and we spent two days there. Here is a short clip from the zone where cork is still harvested and the bells of the goats can still be heard, here along with the bell from a nearby church and a choir of birds:
At our two visits to Piano Zucchi, the song of wood larks (
Lullula arborea
, trädlärka) dominated the soundscape.
Here
are 7 minutes of them (and some other voices).
The wood larks are also heard in the following movie clip. In the visual background: Pizzo Carbonara.
In the Madonies, we also followed a steep path (carrying rather heavy video equipment!) up the side of Monte Scalone to see the famous, endemic fir species,
Abies nebrodensis.
It once covered large areas of northern Sicily, but suffered heavily from the deforestation of the island in previous centuries. In 1900 the tree was considered extinct, but it was rediscovered in 1957. After that, it has been successfully propagated in botanical nurseries and now grows in several places, including the Botanic Gardens of Rome and Gothenburg. However, there are still only around 30 grown-up individuals overall, mainly because every young plant at the original Madonie location has to be carefully protected against the wild hogs that have invaded the area.
Monte Scalone is close to the valley of Madonna degli Angeli, in the eastern part of the magnificient Quacella mountain ridge. In the following short sequence (
to be further edited
) we first see part of the Quacella formation. Then a view from halfway up; note the white-flowering tree: a manna ash,
Fraxinus ornus
, abundant throughout the Madonie and used for the production of
manna
. A rock bunting (
Emberiza cia
, klippsparv) briefly appears. A view from higher up shows the entrance of the valley, with more manna ashes down below. Then we are in the upper part of the valley and at the rare Nebrodie firs. As if pre-arranged, the bird whose Swedish name "gransångare" literally means Fir Warbler in English (
Phylloscopus collybita
, or chiffchaff in actual English) was singing during our visit to the valley.
At Quacella we were also happy to observe the endemic bird that Andrea Corso mentions at the end of his interview, the Sicilian rock partridge (
Alectoris graeca whitakeri
).
The tour continued to central Sicily and then to the south and south-east coast, ending with two days in Siracusa and its surroundings. Of course we have a lot of material from these locations too, but now we have to go on to the next trip!
---
Next trip for the project was made in
November 2015
. For three days, Nordin and I visited Rome and Palermo in order to interview professors Sandro Pignatti and Francesco Raimondo again. This time the focus of the interviews was the environmental problems in Sicily, and what can be done to handle the great challenges that they imply. Clips from the interview with Pignatti, focusing on environmental ethics, will be included in the planned documentary.
Francesco Raimondo has now retired from his academic position but is still doing research on a contract with the university. Below is a condensed version of an interview with him on November 4, 2015. Above all, Raimondo emphasizes the negative effects of abandoning traditional agricultural methods. This, together with a partly misguided conservation policy, has resulted in the dominance of invasive plant and animal species in large areas. Abandoning traditional agriculture has also led to underpopulation of the central parts of Siciliy, while the coastal areas are overpopulated leading to a high level of strain on the environment. At the end of the lecture, Raimondo talks about the recent wave of immigration to Sicily. It causes problems, but can also be turned into something that is positive for the environment: "You only need to be able to manage these processes and make positive what might seem to be only a social action, a humanitarian support action. That is to say, let us involve these masses that are searching, are getting away from their roots because of economic issues but also because they want to save their own lives, and let us integrate them in our environment and make them work in favour of the environment."
The interview was done in the Raimondo home in evening time and without any extra lighting equipment, which explains the imperfect image quality. Camera from now on: Panasonic GH4. Thanks to Massimo Chindamo for help with the translation, and to PhD Stefania Raimondo who checked the final translation.
We also had an interview in the Palermo Botanical Garden with professor Gianniantonio Domina. He told us about the history of the garden and its importance for the early development of agri- and horticulture in Europe, as well as for the science of botany and today's struggle to conserve endangered species. Here is a part of the interview.
---