A few memories from the 5th Congress of the European Rorschach Association:
Madrid, Spain, August 26-30, 1998


This was a really good congress, both from a scientific and a social point of view. Dr. Manuel Esbert (to the left on the first picture) and his co-workers created an unusually friendly milieu for the exchange of ideas. The fact that the poster in the background originates in the Artillery Academy does not detract from the friendliness...

In the middle of the first picture stands Dr. Gérald Lajoie from Canada, who delivered a deep-probing speech about the D score. Dr. Isidro Sanz, Buenos Aires - to the right - gave us an interesting report on the use of SCZI in an Argentinian sample.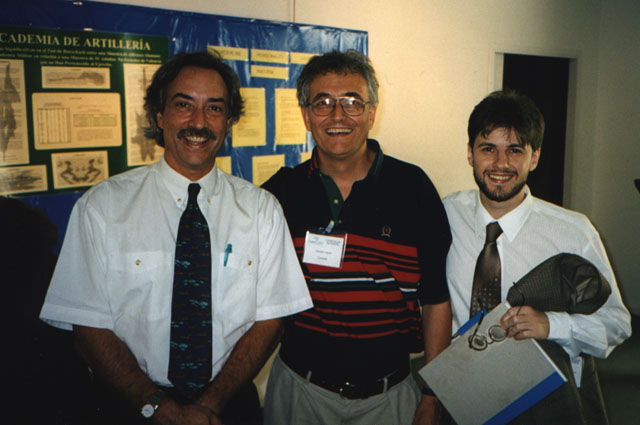 The milieu was not only friendly, but really warm... in more than one sense. During the first days, the demand for fans was high! Prof. Anne Andronikof-Sanglade from Paris, former President of the ERA, can here be seen enjoying the climate together with a Spanish Rorschach student (her name unknkown to me).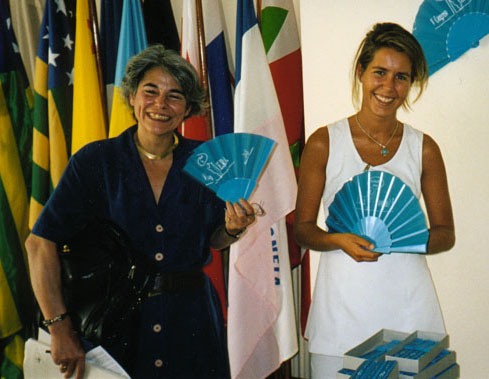 Below is again Manuel Esbert (busy with preparations for the simultaneous translation, I think) and Isidro Sanz, now with Dr. Mónica Braude, also from Buenos Aires.

Manuel was helped in the running of the conference by several young co-workers, for example Pablo Esbert and another student named Maya.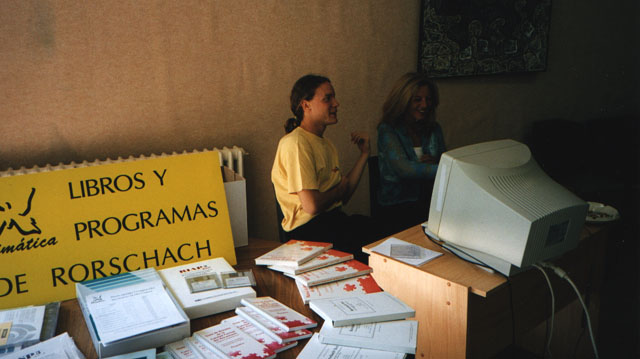 Among the transatlantic representatives on this European congress was also Prof. Nolan Penn from San Diego, California - here with Manuel in the cafeteria, where many scientific contacts were created!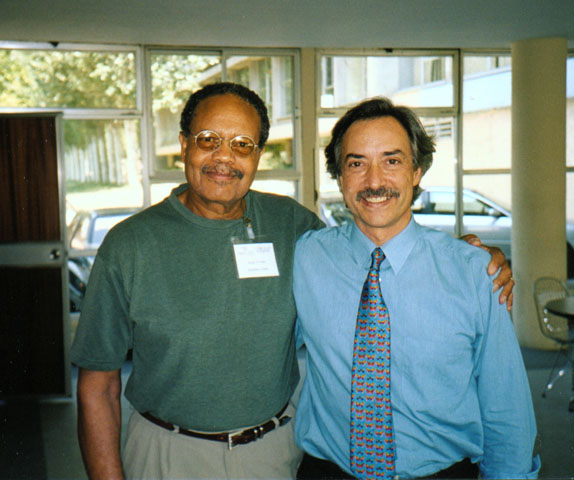 On the very last day of the conference, Anne Andronikof-Sanglade and her successor as chairperson of the ERA, Prof. Christian Mormont from Ličge, Belgium, probably discuss the future of the European Rorschach Association...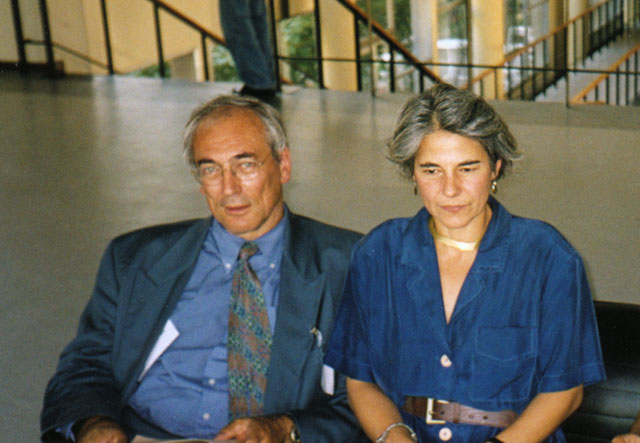 ---
To all of you on the photos: many thanks for your permission to put the images on the Web!
This page is managed by Helge Malmgren. If you want to contribute to the page with text or pictures, or comment on it, send me a mail!